Joan Belgrave...Excitable
Listen to sample tracks and Buy the Excitable CD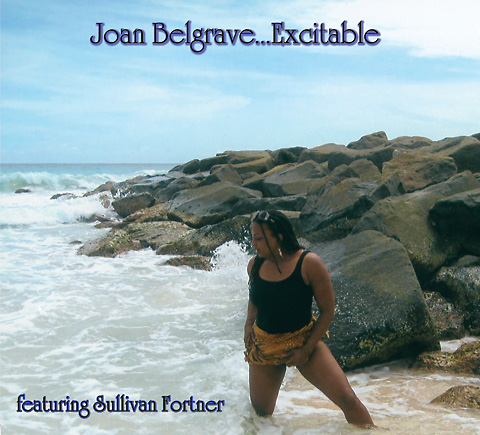 Joan Belgrave – Excitable
Joan Belgrave - Vocals
Marcus Belgrave - Trumpet
Charlie Gabriel - Tenor Saxophone
And featuring Sullivan Fortner on Piano
Joan Belgrave and husband, Marcus Belgrave, let their personalities shine through in this recording.
Semja Update Review of "Excitable"
-BY PIOTR MICHALOWSKI, October 2009
"Joan's remarkable control enriches the delivery of any song" …."Marcus' full muscular tone" adds depth as it reaches inside your soul………The "provocative I'll String Along With You.....the Horace Silver/Andy Bey-reminiscent "He Called My Name" – …."Excitable… new music and lyrics that are both refreshing & exciting"
---P Fallico – KCSM, San Mateo CA
…."They Have as much fun in the recording Studio as on stage, creating a natural sound that's easy to fall in love with"
- A Smith ---- Boston, MA
"Absolutely LOVE IT!!!" - Afrikahn Jamal Dayvs – KKUP – Santa Clara, CA

Detroit, MI USA -CD Release!!!
As a Special Treat.... "Excitable" - the song which was debuted at last years' Player's Playhouse sold out performance of the "Joan Belgrave Concert" is scheduled to be released on a FULL CD!! and will be available for the first time at the upcoming:
Thursday, June 11, 2009
7:30pm
Where:
THE PLAYERS PLAYHOUSE
3321 East Jefferson Avenue
Detroit, MI 48207
313-483-3981
Marcus, Charlie & Joan Jazz Experience!!! -

Marcus Belgrave Charlie Gabriel Joan Belgrave
Special CD Release Pricing will be in effect.!!!
Be among those who can say.. You were there for the Release!!
Get your tickets Now!!!
Tickets: $20 at the door
Save $3 by buying tickets your tickets early ($17 if purchased by June 9)
Contact:
Steve Shrader
steveshr@comcast.net
313-483-3981
Chamber Music at The Playhouse
http://fineartssociety2.blogspot.com/2006/09/chamber-music-at-playhouse.html